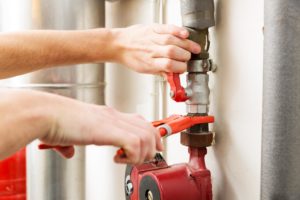 Heating your home in the cold months is important to us. Just as important as the capability to cool your property down in the summer months is, so is having the means to keep your property warm during the colder times. Make the choice to reach out to your local heating and air conditioner specialists at Concord Heating and Air Services. We will provide you with a wide range to choose from when it comes to various heating systems and furnace offerings. When looking for quality you can depend on for many years to come, we bring you the choices you need for long-term reliability.
Heating Installations
When constructing a new building there's a certain checklist that you need to maintain in order to ensure that your property is ready to be used year-round. One of the items on those lists is a quality heating system. When reaching out to your local heating and air conditioning specialists, you have a wide variety of heat systems and furnaces to choose from. No matter the size of the building in question, whether residential or commercial, you can depend on our professionals to bring you the range of options needed to have your building perfectly covered and to have the capability to maintain a comfortable environment year round.
Heating Repair
Suffering damages to your furnace or heating systems, especially during the winter months, is something that requires specialized attention quickly. When reaching out to Concord Heating and Air Services for your heating repair needs, you can be sure that we deliver quick and efficient services no matter the time of day. Whether suffering damages to your vents, ducts, or other aspects of your heating, you can depend on us to provide you with the expertise and experience needed to deliver quick and efficient results to your Concord HVAC.
Furnace Repair
The most important aspect of your entire heating system is the furnace itself, and when you find yourself in need of quality furnace repair, you can depend on our HVAC experts to provide you with the knowledgeable and experienced services needed to quickly remedy the situation. It is our job to provide home and business owners in the Concord area that means to efficiently control their environment, and in order to do so means delivering a variety of repair options aimed at extending the life of your HVAC systems, and keeping you in control of your buildings comfort level.
Upgrading Your Heating System
It can be difficult sometimes to justify the upfront cost of a fully new heating system installation but keeping in mind the monthly cost savings that are more efficient unit brings to your Concord area property can help you make this decision in confidence. When making the choice to reach out to Concord Heating and Air Services for a potential upgrade, you can be sure that we bring you a wide variety of choice and the capability to get the perfect heating system brought to your property that will provide you with the level of each you need, and a lower overall monthly cost.